Almost all millennials surveyed gave to their church in the past few years (92%). About a third gave to denominational ministries (35%); slightly more gave to secular charities (39%). However, the reasons for giving and the heart of these financial partners is what's most important to understand.
ECFA President, Dan Busby noted how the survey reveals that "donors under the age of 35 are passionate about life and connected deeply to causes they care about—an encouraging sign for nonprofit organizations endeavoring to do good work in the world today."
The findings punctuate Busby's assertion that millennials are definitely passionate. When they give to a ministry for the first time, they're more likely than those over 35 to feel hopeful (69% vs. 60%), generous (45% vs. 25%), and spontaneous (18% vs. 11%). In fact, they're more likely to feel every emotion ECFA asked about.
Millennials show a broader and richer range of emotions than any previous generation.
Perhaps as a result of their "youth," millennials are less likely than older generations to worry about ministries keeping administrative costs low; assuming that a one-time gift is a promise of future giving, or contacting a donor for more money. They're also slightly less concerned about ministries using a gift only for what they say they will; not increasing the frequency of donation requests; avoiding political causes; or saying thank you.
"Which of these is most important to you in a ministry?"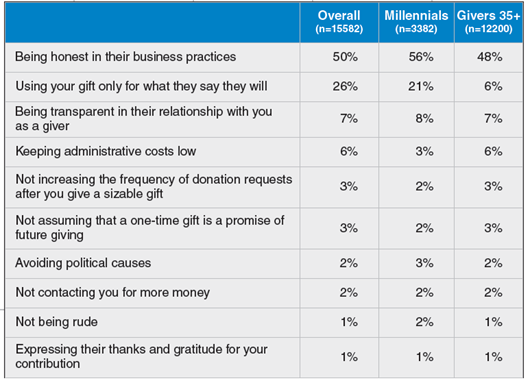 All givers felt that charities should uphold specific financial standards, but Millennials were less likely (85% vs. 93%) to list it as "extremely important."
Younger givers choose Christian organizations because they share Christ and spread the gospel (37% vs. 32% of older givers) and because they serve spiritual and physical needs (21% vs. 13%).
Meanwhile, older givers are choosing Christian charities because they believe they have more integrity and accountability than secular organizations (26% vs. 19% of millennials).
"Why do you suppose a giver might support a Christian ministry instead of a non-religious organization doing similar things?"

Younger givers are also more likely to suggest that donors might give to a secular charity because they are unaware of Christian options (13% vs. 6%), which may suggest they themselves feel less informed.
"Why do you suppose a giver might support a non-religious organization instead of a Christian ministry doing similar things?"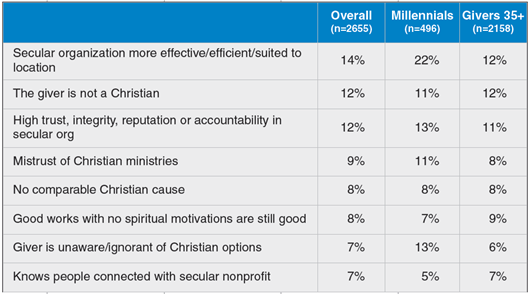 Most givers say they give because they've been blessed. Younger donors are slightly less likely to say they give because their gift makes a difference (20% vs. 23%), and slightly more likely to give to a charity that employs someone they know (11% vs. 8%). A similar percent of millennials said they're more likely to give because of the person asking (12% vs. 7%).
Younger givers were also more interested in hearing from charities than older givers were. More said they'd prefer communication every two to three weeks (9% vs. 4%) or every month (35% vs. 29%), while fewer said they'd only like a message every six months (12% vs. 17%) or a year (11% vs. 19%).
Their actions bear this out. Millennials pay closer attention to every form of communication—except postal mail—that they receive from charities.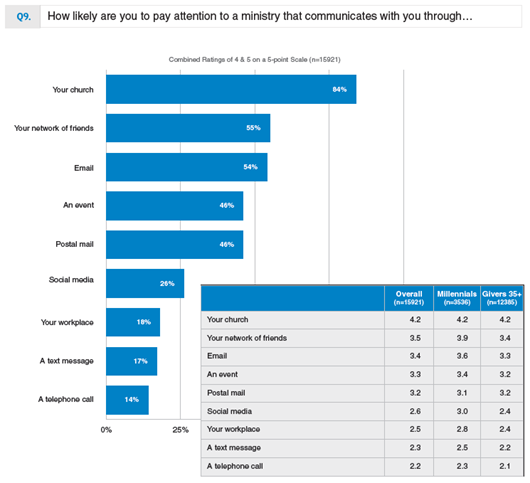 Millennials are also more interested in getting involved themselves. They're a little more likely than older givers to donate to ministries or people groups they care about, or that offer a way to volunteer or to join the team. Nearly 1 in 3 looks for volunteer opportunities when considering a donation (29% vs. 20%).
"I am most likely to consider giving to a ministry if they …"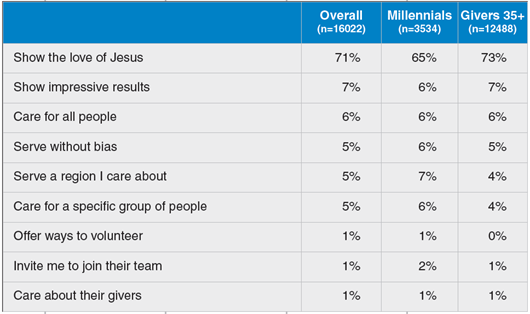 Older givers are more interested in charities that evangelize, translate and distribute Bibles, teach Christians, aid in disaster relief, or strengthen marriages or families.
"How likely are you to support ministries that work to …"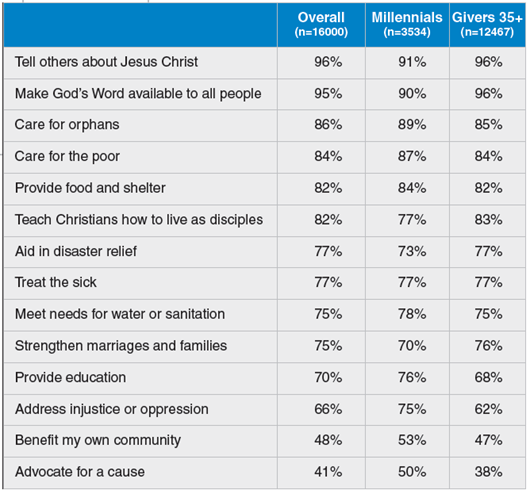 Nine out of 10 millennials give as they feel the Lord is leading them (92%), considering their budgeting priorities before they do (92%). They're considerably more likely than older givers to ask others for their thoughts (57% vs. 48%) before giving.
Ninety percent of ministry givers research a ministry on its website before giving a 'generous' gift, and millennials are considerably more likely to do research 'all the time. They are also significantly more likely than their elders to pursue research on a third-party website.
The sites they're checking? Probably ECFA and the Better Business Bureau's Give.org. A Donor Confidence Index poll showed that almost 3 in 5 of all millennial givers were familiar with the sites, while 2 in 5 knew about Charity Navigator and GuideStar.
While younger givers are more likely to support their charity on social media (26% vs. 18%), they're doing it less than researchers thought they would.
Contrary to popular notions, millennials are more unlikely than likely to promote ministries on social media. They participate in social media because of who they are … they give because of who they are … and promoting a ministry is about what the ministry is.
Indeed, more millennials say they give because of who they are (52% vs. 48% of older givers) or who asks (12% vs. 7%); fewer donate because the ministry asks (21% vs. 33%).
"Please select the one item that best matches your habits …"

Millennials respond with a 20 percent higher optimal gift if asked for a 'meaningful amount. In contrast, their older counterparts respond with much higher amounts when they are asked for a 'generous' gift than a 'meaningful' one.
But millennials will likely give that donation in the same way older givers do—as an occasional or monthly gift.